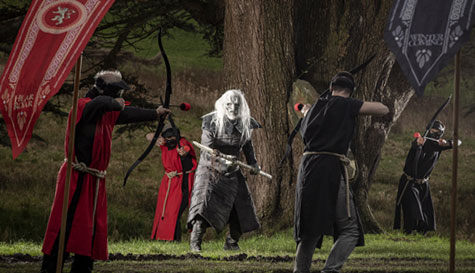 Located under the sprawling walls of the real location used as Winterfell home of the Stark family in the smash hit Game of Thrones TV series, you and your fellow stags will learn top skills as displayed by all your favourite characters and the shows stunt performers.

Who would make a good "The Hand of the King" and who is simply a Hound? This is a great test for all the stags and perfect for stags and grooms who are fans of the mythical Seven Kingdoms.

Once kitted up as members of the Night's Watch the stags will face a number of challenges and get behind the scenes info and factoids about the location, storylines, cast and crew and more.
Meet the Master - You'll meet the master of Arms and be taken on a tour of the castle. This is your chance to ask questions but try not to get too inquisitive, this is Winterfell and we all saw what happened to Bran when got too nosey!
Archery - As well as a sporting competition between all the stags at the 'Winterfell Castle Archery Range', you can also stand on nearly the exact spot as Jon Snow, Rob Stark and Bran Stark you'll shoot traditional bows. Set up your own stag wagers.
Axe Throwing - If the Starks ever took up darts this is how they'd do it. It's like target practice for real men! And why wouldn't you hand the guys potentially lethal weapons? What could possibly go wrong?
Battle Archery - It's just like paintball but with bows and arrows. One of the coolest sports ever invented.
Hunt the White Walker - The groom will get dressed as a white walker and set free, the rest of the stags then get to chase him through a forest and shoot him down!
See More Locations - There are nine locations dotted around that were used in the show.
The Night's Lunch - Enjoy a fish and chips lunch, straight from the Narrow Sea.
Beer - And to wash it down each stag will get a bottle of Winter Ale.
Behind the Scenes Info - The guides will give you lots of stories and info about all aspects of the show except Sean Bean because one does not simply tell stories about Sean Bean.
Superb Photo Opportunities - Dressed as the Nights Watch, standing at the gates of Winterfell, it's the coolest stag weekend photo ever!
Remember "The Stag Do is Coming!"