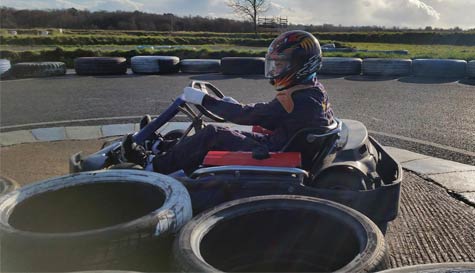 This awesome 600-metre track is superb! It really is a great place to finally find out once and for all which of the stags is the best driver. Forget Grand Turismo, away from the safety of their games consoles and with their arses skimming along just inches off the tarmac things take on a whole different complexion.
Our Belfast stag party go-karting track has moved to this new, amazing site with a specially designed track to give you maximum revs and wheel to wheel racing fun. You'll be racing in highly tuned 270cc Thunder Karts, capable of hitting 50mph which when your backside is so close to the ground really does feel bloody fast!
The session will start with a quick rundown from the instructors before you're shown the karts themselves and learn the controls. It's then time to learn the track with a quick practise session. To ensure there can be no arguments over who the best driver is you won't be restricted to a one-off race. You'll compete in set of qualifying rounds, semi-finals and then the fastest drivers will go on to the 8-lap final with a podium trophy presentation to for the winners.
It really will bring out the competitive side in all the stags, even the worst Sunday drivers among you. And once things hit high speeds that just increases the chances of seeing one of the stags (hopefully the groom for maximum laughs) parking it on the crash barrier in spectacular fashion!
So get set for some of the fastest and best racing known to stag kind. "Gentlemen... Start your engines!"