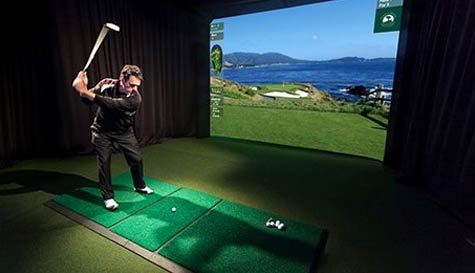 Golf is a great way to add some sporting competition to the big weekend without actually having to break into a sweat. The only downside of golf is there's an awful lot of walking and you do tend to end up a frighteningly long way from the bar.
But don't sweat it! StagWeb have got it covered with this amazing golf simulator that uses the latest motion technology and will mean you and the boys are just a putt away from a bar at all times. Our Belfast stag party golf simulator is a superb way to get the weekend off to a great start.
Fun & Games
You can pick to play on one of the world's greatest courses. You can also select your style of play to create your own mini-tournament.
As well as playing like the swingers you are you can add some drinking games with longest drive and nearest the hole fun.
There are also Wii and Xbox games available.
Eat, Drink & Be Merry
You'll each receive a welcome drink and can take advantage of some great drinks offers. You'll also receive a party platter.
Southern Fried Goujons
Tasty Onion Rings
Succulent BBQ Chicken Wings
Crispy Potato Wedges
Amazing Tech
The simulators use the latest dual technology to give minutely accurate feedback on every single swing, putt, drive and slice. Data is gathered from the club head, floor sensors and in-flight tracking sensors which are located in the walls and ceiling provide you with the most accurate and realistic ball flight. This hi-tech approach measures;
Club head speed
Club head angle
Club head at impact
Ball Speed
Club head after impact
Club path angle
Tempo
Ball angle
The machine doesn't lie, so if the groom is having an off day it will be there for all the stags to see (and enjoy).