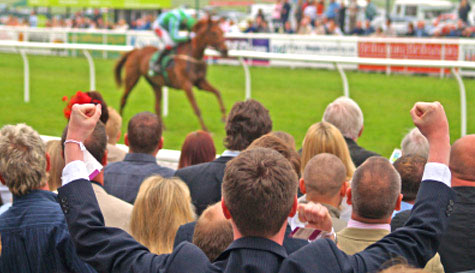 Horse racing is known as the sport of kings... and with good reason! It's also the chosen sport of many stags as it combines the thrill of shouting yourselves horse as you urge a winner home, plenty of bars and slap up grub, plus the chance of backing an outsider, winning big and picking up the tab for the aforementioned drinks and grub, like the stag legends you are. Whatever way you look at it, the excitement of the day means horse racing stag party in Belfast is a sure fire winner!

It's fair to say that on the other side of the Irish sea they take their horse racing seriously and our Belfast course certainly reflects the nations passion for the gee gees. Great facilities will give you everything you need for a top lads day out. With unreserved seating, you are free to explore the venue as you wish and there is a lot to explore, such as food and betting outlets and of course... ample chances to buy a beverage or two.

To get you prepared for a day at the races, here is a guide to some of the lingo that you should be familiar with:
Banker - A horse that is considered to be a sure-thing to win... but as this is horse racing, nothing is guaranteed - which is much of its appeal!
Pulling - Calm down lads, this refers to an excitable horse wanting to start the race early.
Tips - Inside knowledge about a horse competing. Approach with caution: not all the glitters is gold, some turns out to be horse sh...
Furlong - One-eighth of a mile.
Why not upgrade...?
For a small fee you can add some extra class to your day with an upgraded package;
Entrance to hospitality suite
Racecard
Pint of cider
Pulled Pork Sandwich
£5 Matched bet
Please speak to your account manager for further details.