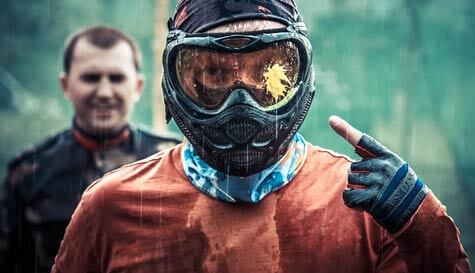 There's paintball, and then there's PAINTBALL!!! This is most definitely stag battle of the highest order where every stag will do his duty... or get shot for running away.

With 80 acres of forest this is a truly epic sight that will totally get your adrenalin pumping. And for those that might think they're a bit handy when it comes to Call of Duty this really will put them to the test.

You'll be using the latest state-of-the-art paintball equipment:
Tippmann Semi Automatic Marker - these babies are capable of firing 12 balls per second. That's 720 per minute... or 43,200 per hour. But we don't recommend that.
Rhino Battlepack - giving easy access to extra paint.
E-Motion Chest Protector.
JT Spectra Facemask.
Disruptive Pattern Uniform
The site also has plenty of tricks and nasty surprises up its sleeve to watch out for. After all, all's fair in love and paintball.
There's a range of incredible battle zones, as well as 12 different Belfast stag party paintball gaming scenarios to choose from, you'll be able to test both your aiming skills and superior tactics.

Battlezones include:
Black Hawk Down
Armageddon
Hyperball
Kill House
Viet Cong Village
Village Forest
Our Belfast stag party paintball site also has a cafe to refuel between games.