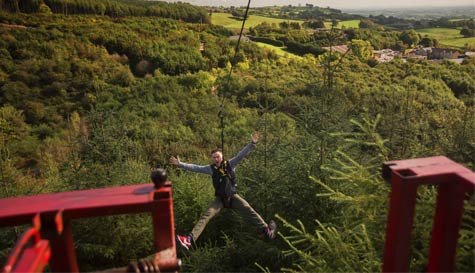 This is one small step for stags, one giant leap for stag-kind as you tackle Northern Ireland's tallest thrill ride. This one really will separate the stags from the boys, forget all that old guff about "not looking down", this massive stag party zip wire challenge in Belfast gives you one hell of a view, and it's even more impressive when you look down and see just how high you are!

Measuring a staggering length of 500 metres, at its peak, the zip line hangs 150 feet above the ground. Simply put, this is a totally awesome experience and certainly befitting having a central place in such a special weekend for the blushing-bridegroom and his closest mates.

After arriving at the site, you will be given a full safety briefing and overview of the experience ahead of you. You'll then get kitted up in your safety harnesses (this is serious business, you can't take chances at 150 feet), it's then on to the 'zip tower' that has a stunning view over the surrounding countryside. Then it is just down to you to muster up the courage to take that last step off...
Why not add...?
As this awesome Zip Wire session is set at a multi-activity site, you can add even more excitement to your itinerary, such as Archery, Clay Pigeon Shooting or a range of man-sized challenges on a Stag Activity Day?

Please speak to your account manager for more details.