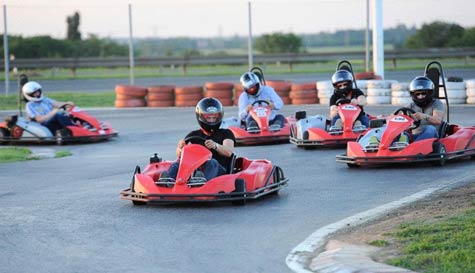 This isn't just any track, our Belgrade stag do go kart track is an FIA international standard track, it's exactly the type of track that Vettel, Hamilton, Button and Schumacher all learnt their trade. This is 803 metres of perfect racing surface, with 18 action-packed bends to test the guys' driving to the limits (and who isn't secretly hoping to see the groom spectacularly park it in the tyre wall?).
This is stag do wheel to wheel action of the highest order, in fact, this is the most fun you can have on four wheels without seeing flashing blue lights in the rearview mirror. You and the guys will get kitted up in racing gear then a quick safety briefing on race etiquette and advice on keeping the karts shiny side up, then you'll hit the track for some practise laps. Once all the guys have got to grips with it and are pointing in the same direction you'll be under starter's orders.
Over a series of races, you'll find out who is your Belgrade stag do go-karting champ and which of the guys really shouldn't be allowed behind a wheel again. When you're not racing there's a great cafe where you can watch all the action. The track even has complete floodlighting so you can even race at night if you're feeling a bit, Le Mans.