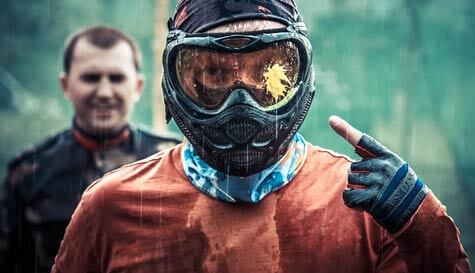 Paintball remains perhaps the greatest stag party activity of all time for the simple fact that... it's awesome! Where else can you get properly tooled up, dressed in combat gear and be legally allowed (nay, encouraged) to shoot your mates in the gentlemen's vegetables from close range?
Our Belgrade stag party paintball site will whip up some proper stag competition where you and the guys can "let slip the dogs of war" while giving the groom a complete Dulux makeover. This fantastic site is designed with joyous carnage in mind, a chance to go all out for victory and settle old sporting rivalries (or even create new ones).
Each stag will be equipped with a state-of-the-art weapon, combat fatigues, mask and goggles plus 100 paintballs to get you started. Once everyone is tolled up ready to let rip you'll then spit into teams before hearing the rules of combat. It's then "go time!".
Forget Call of Duty, the guys might think they're a bit handy while sitting safely in front of a computer screen but how will they cope when the paint really starts to fly? Our Belgrade stag party paintball site is a fitting test, it's then "mano a mano" as the fighting gets down and dirty and just for the record you can't bring a paintbrush for use in hand to hand combat... That would be weird).
The site has indoor and outdoor battlefields so whatever the weather you can still make sure the groom gets the multi-coloured send-off he so richly deserves!