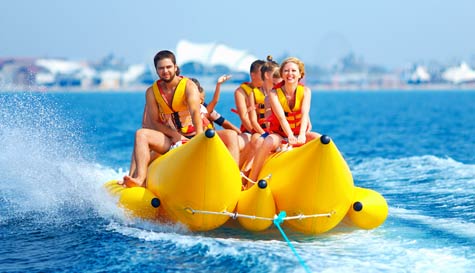 It's a stag party, it's the one time of the year when it's perfectly acceptable not to act like grown-ups the whole time and this is one of those moments when you can forget the spreadsheets, exams, child-raising, responsibilities and just go wild. And this is the perfect vehicle!
You've seen them on plenty of beaches in the past, normally it's youngster dribbling along but this is stag time. We'll ramp up the speed to suit a group of rough riding stags.
The session will begin with you all getting kitted up with safety vests (get all the guys together for a team photo of course). Then you'll take to the banana boat-like, well, stags to water accept the lads are likely to be as hyped up as a group of seven-year-olds on a diet of cola and red jelly beans told that father Christmas is dropping by to see them.
The speed boat will fly across the smooth Mediterranean water at high speed to give you guys the toughest time possible. Of course, the best thing to do is to make sure the groom is at the very back of the banana and set a penalty for the first stag to fall off.
The Banana Boat works best as part of a full day of beach fun, you can add;
Or head inland for a funky Segway Tour. Ask our team for more details.