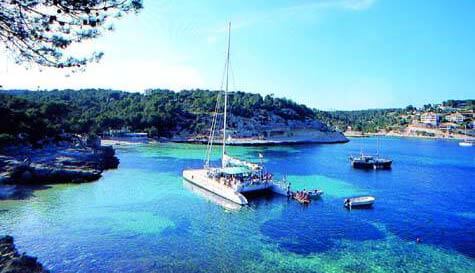 After a heavy night partying what could be better than...
A leisurely party cruise?
After all the hassles and often complete madness of the wedding planning, the groom will no doubt be ready to really get away from it all, relax and kick back with his best mates. Everyone knows about Benidorm's legendary party lifestyle, but only cool headed best men will go so far as hiring a catamaran for the stags. But it's a smart move that will see you become a stag legend!

After a big night out and perhaps a few too many cervezas, what the lads will be in need of some R&R. And nothing could be cooler than the playboy lifestyle of having a luxury leisure craft at your disposal.

Your whole party will be picked up at your accommodation and transported to the vessel. Once the crew have welcomed you all aboard it's time to set sail, you can either just chillout or get a few party tunes going as you enjoy the stunning views and Costa sunshine, to top up those pre-wedding tans.

As well as the great coastline, there's the cooling and inviting waters of the crystal blue Mediterranean Sea for you to dive right into. The catamaran will weigh anchor allowing you all to dive from the ride of the boat and go for a swim or try a little snorkelling.

The 22 metre catamaran is equipped with
Nets ideal for sunbathing
Undercover and outdoor seating
Two toilets
Capacity for 100 passengers
You'll be joined by other groups which will soon turn the whole cruise into another great party.
A buffet lunch will be served onboard with complementary beer or sangria, after that you can relax, catch a few rays or simply take a little siesta. "Ahhhh, this is the life..."