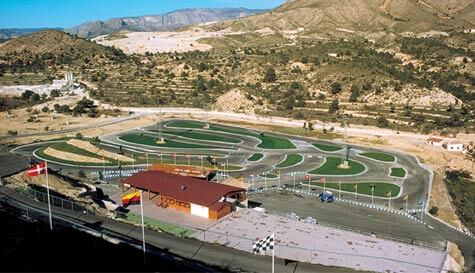 There's a reason why our Benidorm stag do go karting remains one of our most popular activities... It's epic!

You'll get behind the wheel of 270cc Honda karts and go wheel to wheel over a superb 1 kilometre track. The track is also 10 metres wide so there's no slow racing. If some wide boy manages to get to the front of the field and thinks he can simply hold off the pack he'll soon be eating go kart fumes, the width of the track ensures the action really is fast and furious. It's also utterly brilliant.

Speed freaks, petrolheads and go kart newbies really can get revved up in a truly high speed, adrenaline pumping session that will answer the old argument once and for all "Just who is the best driver?" There's only one way to find out... Race!

And it's F1 all the way. You'll be picked up from your accommodation and taken to the track. After a quick safety briefing it's time to see the track for yourselves. Here at StagWeb we're lucky to have raced on tracks across Europe and this is by far one of our favourite tracks, the scale, width and complexity of the track means there's plenty of room to really race. Also the complex turns, curves and flat out straights also means there's plenty of opportunity to watch one of your fellow stags park it on the tyre wall!

And while 55mph might not seem that fast, when you're backside is just inches from the tarmac it feels unbelievably quick. Who'll be hitting the brakes early, and who'll triumph with Hamilton-like cool and take the chequered flag like a true champ? Gentlemen... start your engines!

The session ends with a champagne podium presentation to crown your very own stag stig.