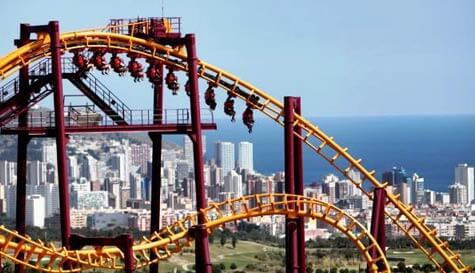 As theme parks go, this huge site is right up there with the very best Europe has to offer.
Centred around 5 separate "worlds" this epic park is packed full of incredible rollercoasters, flumes, shows, rapids, a huge 150ft drop and more stag party madness than you can wave a dare card at. It's also quite possibly one of the toughest hangover cures known to stag-kind with 17 rides, 11 shows, 9 shops and 9 restaurants.
Zones
Rome
"My name is Maximus Stagius, and I will have vengeance on the groom in this life or the next!"
Rome features Europe's largest wooden rollercoaster which reaches speeds of 100kph. You'll also find the Flight of the Pheonix, which hits 100kph during a gut-wrenching 54m free fall.

Iberia
Along with another knuckle-whitening roller coaster, the lads can hop on the Arietes dodgems and enjoy some 'Spanish-style driving' (those are the Spanish park's words, not ours).

Greece
Ah yes Greece, home of the Gods, the birthplace of democracy and possibly the spot where several of the lads lose their lunch. You'll find the SynKope, a giant spinning discus which travels at 90 kph at an angle of 120. The perfect hangover cure (?!?). You can also step aboard Triton Fury a stomach-churning rapid ride.

The Islands
You'll be heading back to the water to take on the Rapids of Argos (not to be confused with Rabbits from 'Argos' - batteries not included) which is a wet and wild high-speed flume. It's then onto the Rage of Achilles recreates a galley that rides through a storm at crazy angles.

Ocionia
Finally, Ocionia (formerly Egypt) where you can test yourselves against the Falls of the Nile water roller coaster where you'll ride in a sarcophagus over near-vertical drops.
Then it's straight up the 100m high circulating viewing platform or if you're ready for combat and to finally get your vengeance there's paintball action and scary thrills, visit the Battle of the Pyramid and the Pyramid of Terror.

This is a huge day out where the lads can really be let loose under the strict instruction to not act their age.