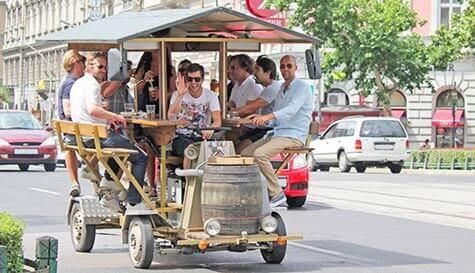 Stag weekends can be tough, so much to do, so little time. Once you manage to rouse the troops and get them and their hangovers up and out of the hotel it's then a matter of how do you find time for drinking, banter, exercise and still manage to get around one of Europe's most historic and influential cities?

The simple answer is The Beer Bike, the awesome piece of hop fuelled genius is the perfect way to get out and make the most of your time in Berlin from the comfort of your own mobile pub. Due to local law changes the beer bikes are no longer allowed on some city streets so the bikes won't head past some of the more famous sights. The bikes are still brilliant fun and the beer is still ice cold.

You'll be provided with your own chauffeur/landlord to take charge of the steering so you can focus on the important stuff... Drinking. On board the bike you'll have 10 litres of Germany's finest export to keep the lads refreshed. Well, after all the peddling you don't want the poor little lambs getting dehydrated.

You'll head around some areas of the city where you can ask important questions to the guide ("Do you think the groom looks good in his dress?"). You'll need a minimum of 8 stags to hire the bike and the bikes hold a maximum of 17 stags. For larger groups we can supply multiple bikes.

The other piece of genius behind the beer bike is that when you get home and the groups wives and girlfriends ask about what you got up to during the stag weekend, you can be completely honest and tell them about the healthy lifestyle you lead, going on bike rides and broadening your cultural horizons by seeing the city, the fact you happened to have a few pints on route is a minor point which we'll leave to your conscience.

Please note; Due to local laws you must be sober before starting.