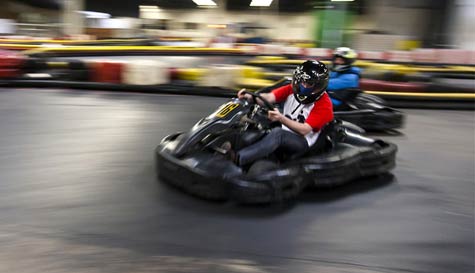 If you're looking for high-speed action on your Berlin stag do, go-karting is streets ahead.
You'll go wheel to wheel with your fellow stags on the 752m long, 7m wide track which is seriously demanding - as you'd expect in a speed-obsessed country that has produced F1 champions, Michael Schumacher and Sebastian Vettel. Expect tight hairpins, chicanes, fast straights and a group of stags all hoping their competitors will end up parking it on the tyre wall.
After a safety briefing, you'll get kitted up and shown the controls of the Sodi RX7 karts before taking to the track for some practise laps. Once you've all familiarised yourselves with the track and karts' handling, you'll line up on the grid for the first qualifying lap en route to crowning your own stag Stig and finding out just who is the group's Captain Slow. Eventually, the fastest drivers will line up for the final to be crowned the go karting champ.
As you'd expect, the track and 10,000 sq metre site are set up with the German's love of speed and efficiency in mind, and this really is a superb facility perfectly designed to finally settle once and for all who amongst you is the best driver.
The activity includes an English-speaking guide and transport to and from the track.