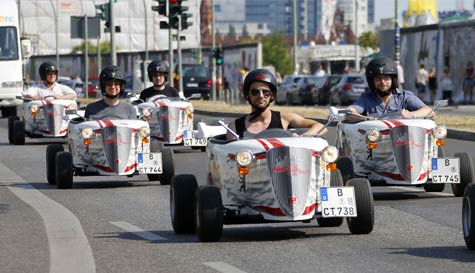 Berlin has so much to offer adventure-loving stags who are up for a laugh and while the high ropes course is a huge challenge and the go kart track is one of Europe's best, our Hot Rods in Berlin are quite simply one of the greatest forms of transport known to stag-kind!

You'll be hitting the streets in stunningly designed one-man hot rods - these miniature mean machines really do turn heads as you'll see for yourselves. Every time you slow for traffic or hit a set of lights you can expect your own mini paparazzi as tourists and onlookers grab their phones and cameras to get snaps of you.

With your own guide, you'll have two hours out on the road, taking in the sights of one of Europe's most politically historical and party-loving cities. You should keep your own cameras ready because as well as the mad fun you'll have behind the wheel, there's actually loads to see. But most of all this is all about the driving experience and these mad motors really are just about the most fun you can have with a helmet on.

While Germany is a beer-loving nation and has a fairly relaxed attitude to speed on its autobahns, the two definitely do not mix and there is a zero-tolerance of drink driving so you must be sober to drive. That means you'll have to stay on the wagon and save the beer-fuelled cheer until later. You also need a valid driving licence.

But this is, without doubt, one of our most exciting Berlin stag activities and something the guys will be laughing about long into their first pints.