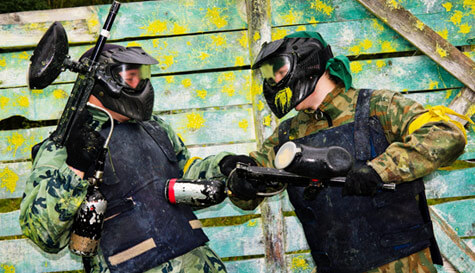 In the world of stag party paintball it's kill or be killed and if that means shooting the groom in the gentleman's veg to save yourself then so be it. Shakespeare wrote, "All's fair in love and stag party paintball." Or something like that.

Our epic Berlin stag party paintball arena is 700m of total carnage and feels like a 'shoot em up' game with its sinister low-level lighting and tight space where you'll really need to keep your wits about you or face getting a complete Dulux makeover from the enemy.

The marshals will explain the rules and get you all kitted up with state-of-the-art weapons, protective overalls, facemasks and 200 rounds of ammo per stag. They'll also be on hand to oversee the battle while the lads take everything they've learnt from hours of Call of Duty and put it into action. Of course, things are pretty different once the paint starts flying and those that might think they're a complete killing machine from the comfort of their own sofa might struggle when things get physical.

You can stick with your start teams or mix things up as you go into each separate game, with 4 games per session.

This is a superb addition to any Berlin stag weekend, fast, furious, adrenalin-pumping action and a great way to build up a thirst ahead of a big night out.

Stag Prank - To make sure the groom is kept safe from harm and doesn't wander off getting lost (well, you know what he's like), we suggest taking along a nice pink onesie for him to wear during the session. See more Stag Do Pranks.