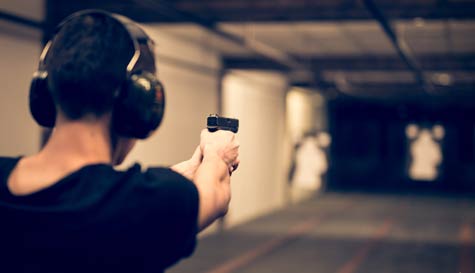 While lesser stags are back home, getting wet on Margate beach or playing pub golf, you and your fellow Berlin adventurers will be handling some of the world's most-deadliest weapons and blowing big holes in things.
It's one of the most adrenaline-pumping activities known to stag-kind. It's also a great way for the guys to get really competitive. Best of all, it's the most extreme hangover cure ever! "I know what these hangovers need, really loud gunfire!"
We have top drawer packages available. But if that's not enough firepower for you, ask our team about other packages.
30 Bullet Package
10 bullets - Ruger Mini Rifle
10 bullets - CZ Luger .22
10 bullets - Walther P22 pistol
Stag fact - Walther is the preferred weapon of James Bond.
40 Bullet Package
10 bullets - Ruger Mini Rifle
10 bullets - AK-47
10 bullets - Uzi or P90
10 bullets - CZ 75 or Glock 17 pistol
Stag fact - Uzi is the hero's favourite and has been fired by every Hollywood hard man: Stallone, Schwarzenegger, Willis, Statham, Snipes, Neeson and more.
The session begins with transport from your hotel and an English-speaking guide. You'll head to the former Cold War bunker where an instructor will give you a safety briefing, you'll then get your itchy trigger fingers on some serious hardware. The guys can keep their targets to compare shots.
Non-alcoholic drinks can be bought on site. Any stags thought to be drunk will not be allowed to shoot. The session will end with return transport back to your hotel.