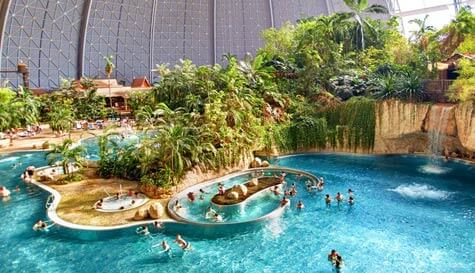 After weeks of often stressful wedding planning (the endless hours the groom will spend pretending he has an opinion about issues such as the colour of the napkins and who should sit next to Auntie Ethel on the seating plan) the one thing the groom is desperately in need of is some rest and relaxation where the only difficult decision making he has to get involved in will be whether to leap onto the 27 metre waterslide or relax on the beach and order another drink.

Seeing is believing and this secluded area just outside Berlin seems an unlikely location for this incredible tropical paradise but it really does transport a touch of Pacific island life to central Europe. Housed in a giant bio-dome that is longer than the Eiffel Tower and taller than the Statue of Liberty.

Complete with sandy beaches, pools, saunas, whirlpools, palm trees, bars, restaurants, even a sports bar showing games on big screen TV's, it will feel as if you've uprooted the stag party and landed them in Bhali for a few hours without the hassle of a 10-hour flight. The whole atmosphere is controlled to a gorgeous hot temperature, allowing the guys to get into the surf shorts or budgie smugglers and hit the beach. Alternately you can head to the lagoon with its grotto and waterfalls. This is quite possibly the greatest hangover cure ever invented.

There's a selection of bars and restaurant and cafe to keep the guys well fuelled or to grab the hair of the dog. If relaxing on the beach becomes... well, too relaxing you can head up, up and away in an island balloon. While competitive stags can have a game of mini-golf or head to the waterslide which hits speeds of up to 70kmph.

Most of all this is a fantastic chance for a little r 'n' r away from the city centre where you can swap stories about the night before or start planning the night ahead while living the island life.