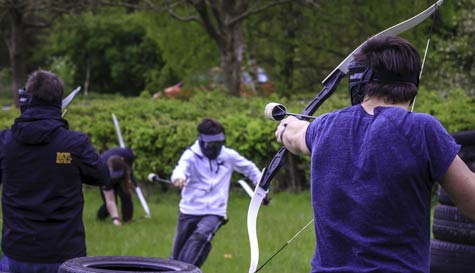 Battle Archery Tag is a new sporting concept that offers all the chaos and rage of paintball but with known of the bruises and without getting covered in paint. Win/win.
The session begins with a quick rundown from the marshals and instructors, once everyone understands the rules of engagement it's then time to kick ass!
The Game
The teams start in their own zones and then sprint to the middle to collect arrows before sprinting back to safety and then the feathers fly. You score points by either shooting all your opponents or their targets. You can catch your opponent's arrows in mid-air (uber cool!) and fire them straight back. Knock out all your opponents, you win. Hit all their targets, you win. Make the groom dress in hi-viz to make him unmissable, you win!
You'll play in a series of games so even if you lose a round you can still win the overall day.
The Weapons
The arrows have soft tips allowing you to be hit with no real damage and attempt to catch incoming arrows.
The Pitch
The battle zone is covered in a series of battlements and targets giving you somewhere to take cover as well as something to aim at.
The Target
The groom obviously. Even if you're on his team everyone wants to shoot the groom right?
More Madness
Why not add even more fun? You can add a second activity to your day. Please ask for details.