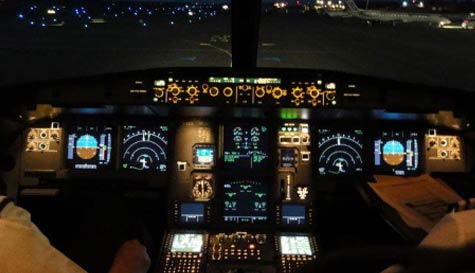 "Ladies and gentleman, this is your stewardess speaking. We regret any inconvenience the sudden cabin movement might have caused. This is due to periodic air pockets we encountered. There's no reason to become alarmed and we hope you enjoy the rest of your flight. By the way, is there anyone on board who knows how to fly a plane?" - Aeroplane.

If the groom has always secretly wanted to be the guy who can stand up and be counted in an aviation crisis, has always wanted to fly or has tried every flight simulator on the Xbox then now is the chance to experience the next best thing to real flight. Our simulators are on par with those used in real pilot training.

This massively high-tech piece of kit is the very best flight simulation and the ultimate big boy's toy. Under the guidance of real-life airline pilots you can choose from a wide range of destinations to fly to and land at and get the view of what takeoff looks like as you thunder down the runway at "aaaaaaaarrrghhhh" miles an hour. The view is incredibly detailed in this realistic experience. To make sure you're fully up to the task, you can even sneak in a little practice at your airliner voice ahead of time "Ladies and gentlemen this is your captain speaking and later on during the flight... we'll be getting the groom drunk."

This is the real deal for stags who want a real flight experience. Our stag party flight simulator will test your nerve as well as dexterity, after all the rest of the lads will be looking on and letting you know exactly what they think of your flying ability.