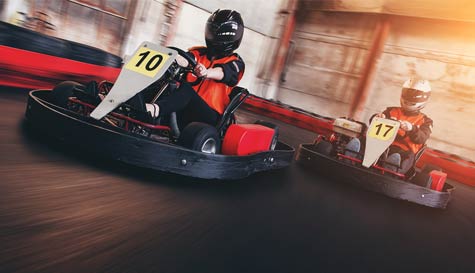 Go karting is always a sure-fire stag party pleaser, and our brilliant Birmingham indoor track is one of the best in the UK. You and the guys will be competing on a supremely challenging 310m track that features a fly-over bridge, Monaco-inspired tunnel and an amazing figure-of-eight flyover section!

With such a competitive and demanding race format (this is wheel to wheel, every stag for himself, racing of the highest order) you'll need karts of the highest standard, which is why you and the boys will be tearing up the tarmac in 200cc biz karts capable of 40mph. After a quick practice, you'll all have 5 lap race heats each and will compete to qualify for the final, which will have 8 competitors all in one headlong charge for the chequered flag.

No quarter should be given during this 'he who dares wins' racing extravaganza where survival of the fastest will see you glide through to the final as your fellow stags eat your dust. This is unquestionably one of the finest tracks to get racing, whether you're a complete go karting novice or a seasoned karting veteran. But just make sure no matter how competitive you are, that you always keep the karts shiny side up.

Who will be your stag party 'Stig' and which who'll be bringing up the rear as 'Captain Slow'?