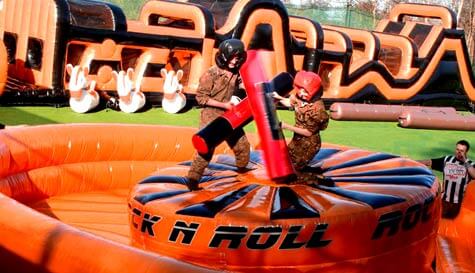 If you're looking for a unique activity full of laughs, banter and total stag carnage then look no further! Our Birmingham stag party inflatable games will see you take on a series of 8 hilarious challenges guaranteed to make sure that the groom will soon become 'the fall guy'... along with everyone else who wipes out. The guys will be split into teams before taking on a combination of TV's It's a Knockout and Total Wipeout in a bid to conquer an epic inflatable obstacles.

Our stag party inflatable games may include:
Assault Course - A massive 40 metre inflatable course including water hazards and hilarious obstacles.
Rock n' Rolla - Battle it out with a rival stag on a spinning platform with blow-up battering rams and a referee making sure that there's no foul play.
Wrestlemania - Climb into a sumo suit and go toe to toe with members of the opposing teams. You ate all the pies and now it's going to pay off!
Cumber-land Speed Record - Your team will climb aboard a wobbly sausage before a mad and probably hilarious dash to the finishing line.
Space Hopper Racing - Flashback to your carefree days of youth with a fast, furious and exceptionally bouncy race on the back of a space hopper.
My Little Pony - It's a horsey race and the groom will look so "pretty". Definitely bring a camera to film the groom in action.
Footpool - Show off your Messi skills as you try to put balls into pockets in this awesome combo of two brilliant games.
Disco Dome - All is definitely not what it seems in the disco dome, is this massive inflatable dance floor really just for dancing?
All the bragging rights will be on the line in our Birmingham stag party inflatable games, so there really is everything to play for. You'll need to get your game faces on, ('grrrrrr... GRRRRRR') before gritting your teeth and pushing yourselves to your physical limits. It goes without saying here at StagWeb we fully expect that every stag will do his duty in pursuit of victory with a free bottle of bubbly awaiting the winning team.
Double bubble!
Why not add even more fun? We have even more mad activities at this site. Please ask our team about a deal to add any of the following activities to your day;