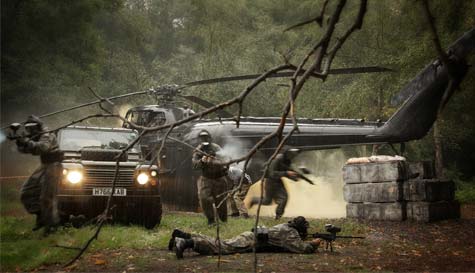 Birmingham might be England's second-largest city but when it comes to top drawer activities it's first-class! Our Birmingham stag party multi-activity site offers a veritable feast waiting for hungry stags to get stuck into.

Your Birmingham Multi-activity stag party challenge can choose one of these awesome combos:
Paintball and 1-hour quad biking trek
Paintball and inflatable games
1-hour quad bike trek and inflatable games
Paintball, 1-hour quad biking trek and inflatable action games
You can also add a tasty BBQ lunch to your package, where you can choose from a hot dog, juicy beef burger, chicken burger or a veggie option. Please enquire with your account manager for further details.

But enough of your stomachs and back to the challenges at hand...

Alongside stag classics like paintball and quad biking are the inflatable games which are kind of like a bouncy Olympics for the deranged sportsmen. First, you will take on the inflatable assault course, an intense 40-metre boot camp challenge. Next up you will then take on a bunch of hilarious challenges such as Pony Hoppin', Silly Sausage Racing, Super Hero Fun Boxing and Gladiator Roca Rola.

Not only do you get to go into mortal stag battle as you slug it out to see which of the stags reigns supreme (and which of you will have to get the first round in having come bottom of the leaderboard) but you will also get no end of laughs. Mostly at rather than with each other, but who cares as long as everyone is laughing?

Combine all three and you can set your own separate prizes and forfeits for each activity.
Double bubble!
Why not add even more fun? We have even more mad activities at this site. Please ask our team about a deal to add any of the following activities to your day: