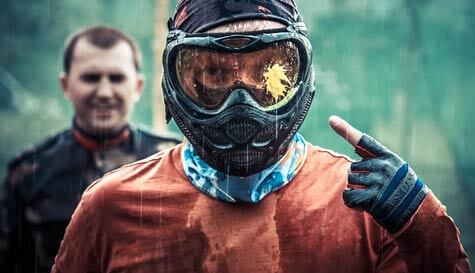 Our Birmingham stag party paintballing takes place in the UK's largest paintball site, set in 200 acres of natural woodland, this epic site features some of the most impressive game zones you'll ever see and 20 possible missions that you might be set.
Each stag will be armed with a state-of-the-art gun, anti-fog googles, coveralls and 100 paintballs each to get you started as you try to take out the enemy before they can give you and your team a fresh coating of Dulux.
There'll also be a fancy dress costume for the groom so mummy's little soldier doesn't get lost in the carnage. If a bi-product of that just happens to be that it makes him easier to hit…? Well, all's fair in love and Birmingham stag party paintball.
Lock, load, and take on the challenge of:
Rambo - Scramble your way through village huts and kick ass… Sly style.
Operation Diamond -This requires real stealth and tactics to work as a team and disable the enemy's comms within the time limit.
Hanoi Hilton - "I love the smell of (paintballs) in the morning", it's time to check in to the Hanoi Hilton.
Wild West - This town isn't big enough for both of us". One town, two teams, something gotta give. Yippee-kay-aye Mother-lover!
Trenches - Attempt to claim "No Man's Land" by being the first to raise your victory flag. But raise it high, no one wants to see you at half-mast.
Plus, many more…
Our Birmingham stag party paintballing is an awesome day of nearly-wed action on the UK's most epic site. While the maps you'll play here have been featured in the Xbox game Paintballer, there's nothing virtual about the epic series of games you'll get to try here, and this is the perfect chance to wave goodbye to the groom's last days of single living by peppering him with paintballs in the spirit of stag-do cheer before a big night out.
Double bubble!
Why not add even more fun? We have even more mad activities at this site. Please ask our team about a deal to add any of the following activities to your day: