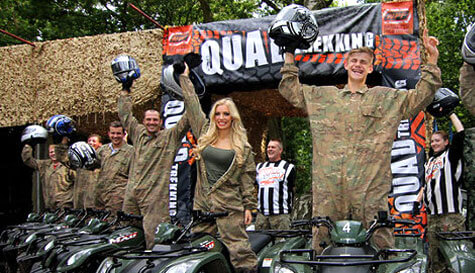 Our Birmingham stag party quad bike trekking is the perfect way to thrash out any weekly road rage or commuter stress. You'll wave goodbye to tarmac and head out into over 200 acres of ancient woodland.
The fantastic site has been 'prettied up' for dainty little quads, this is the real deal as you face all kinds of natural bends, dips and obstacles. Such as the rest of the slow moving stags. However this isn't a race, the quads do take a little getting used to and the 150cc engines kick up some awesome power. We'd really recommend you take it easy on the throttle as you get the hang of things and please do try to keep the quads shiny side up at all times (you really don't want to have to report back to the bride-to-be that you've managed to damage her future husband).
You'll get full instruction before the one hour trek but the automatic quads are easier enough to motor, it's just the power you need to keep an eye on. You can turn our Birmingham stag party quad trekking into a full day of man-sized challenges by adding more epic sporting fun;
Paintball - Give the groom a Dulux makeover during all out stag warfare
Archery - It's the ultimate game of arrows... "Lets. Play. Darts!"
Rifle Shooting - Forget Call of Duty, which of the stags will be the real top gun?
Contact our team today to find out how we can help save you cash and create an epic stag weekend package.
It's the perfect way to get the competitive spirit going between the guys and with more competitions there'll be more winners, more losers and more chance for stag forfeits.