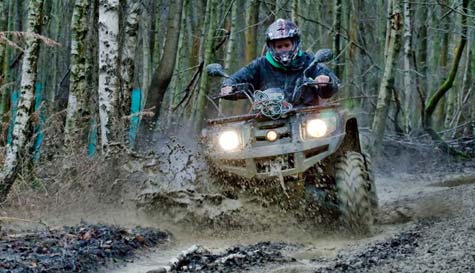 Quad biking is a classic stag party activity. On this superb custom-built track in Birmingham, you and the lads can finally experience your quad biking fantasies as you finally determine who amongst you are the real racing deal. After meeting with a trained professional, who'll show you how to get the most out of your mammoth machine, you'll take on a few practice rounds. After getting to grips with a track custom-built to challenge you to the max, you'll take on the time trials.

Once you've decided whether to take some of the pressure off by racing in teams (you can blame the slowest stag for your failure, obviously) or whether to brave it and race individually to claim the ultimate bragging rights for one lucky stag, you'll head to the start line and await your green light to power through this track. Each driver will cross the line at ten-second intervals, to avoid any dirty moves by any stags who know they aren't up to scratch and also to allow you to have the maximum amount of space to really rip things up and overtake your opponents. Tearing through the muddy track without mercy and drifting the corners like a pro.

When you've settled your differences on the track like an off-road Fast and Furious, podium places will be handed out and first, second and third will all receive race medals to truly emphasise your racing superiority. This quad biking stag party in Birmingham really is an epic inclusion for any stag weekend, an awesome way to get out of the city before that big night out; you really will be racing to go again.
Double bubble!
Why not add even more fun? We have even more mad activities at this site. Please ask our team about a deal to add any of the following activities to your day: