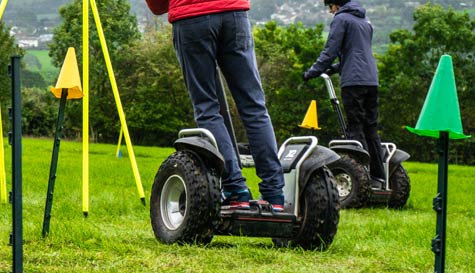 For zero-hassle motorised laughs on your big weekend that don't require members of your stag squad to have years of driving experience, Birmingham stag party Segway racing can seriously impress. Nope, we aren't delirious after eating the hottest curry in Brum, these two-wheelers are badass, easy and fun to use and more popular than Kim Kardashian after she pioneered the 'Belfie' (the bum-selfie).
Our Birmingham multi-activity site is the ideal place for you and the lads to discover these freewheeling machines for yourselves. Book two activities and keep the adrenaline rush alive. Choose from:
You'll have a quick safety briefing and then it'll be time to learn how to use your hilarious two-wheelers. The idea of moving by leaning forwards or backwards while steering in the (hopefully) right direction is easy to learn, but difficult to master, meaning that the groom's father-in-law can have a laugh while stag rivals can separate the Evel Knievel's from the Captain Slow's in an awesome relay competition.
It'll take all the slightly-hungover skill you've got to find your way around this tricky challenge course in the fastest time to take home the coveted bragging rights. Although it's often just a case of trying to stay on track while your "supportive" mates jeer you on from the touchline!
Our Birmingham stag party Segway racing is an ideal activity for lads looking for motoring banter where everyone can get stuck in and have plenty of laughs before a big night out in one of the UK's party capitals.