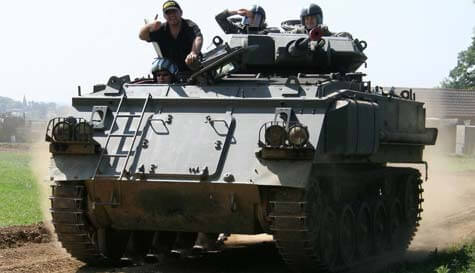 Our Birmingham stag party tank driving is the full metal jacket of road rage driving! Steering 17 and a half tonnes of hardened steel on a custom-built course while making threats to blow things up: as an activity for stags wanting something unique, tank driving is up there with the very best. Set in fantastic scenery the base won't give you time to look around as you'll soon be up to your tank tracks in all manner of mud, rocks, and challenging terrain, you will be undertaking an experience of mammoth proportions; driving turreted FV432 tanks at a former WWII bombing range.

You will take it in turns to drive 2 laps around the course, initially with the hatch open and then under battle conditions looking through the periscope. It's an opportunity to do something completely unusual, let's face it, where else than on a brilliant stag do will you get to drive a tank? With a competitive driving element, it's not just a great challenge to try and tame these huge beasts but you then need to do it while keeping your foot down to take the title.

Not only will you get some amazing stag photos, our Birmingham tank driving stag party is superb for some real stag banter. While you're not driving you really get a chance to let rip at your fellow stags or sit and watch their own driving calamity. It really isn't as easy as it looks and this is an epic driving challenge.