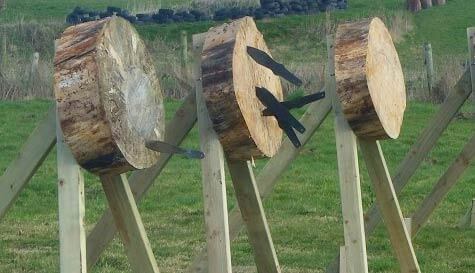 Darts…? DARTS?!? Well, yes, you could play darts for a bit of sporting action. But you could also go head to head on sodoku, or all take up knitting. Or you could man up and take on one of the most awe inspiring stag competitions ever!
Since the dawn of time man has been picking stuff up and lobbing it at his enemies. First it was rocks, then spears, eventually man managed to shape metal and the throwing weapons become a lot heavier and a lot more deadly. And now with those hangovers still throbbing you're going to follow in the footsteps of Vikings, Saxons, Apache Indians and Shaun of the Dead (although to be fair, he used LP records).
Something we should really point out, these aren't toy axes and stags will not be able to take part if they are deemed to be intoxicated. But for the rest of you that are sober, this is awesome fun and could turn out to be the perfect training for a zombie apocalypse (it's just a matter of time before you have to go Rick Grimes).
An instructor will be on hand to keep everyone safe and show you how to throw the deadly weapons. He'll also keep score in a sporting competition between all the lads.
Double bubble!
Why not add even more fun? We have even more mad activities at this site. Please ask our team about a deal to add any of the following activities to your day: