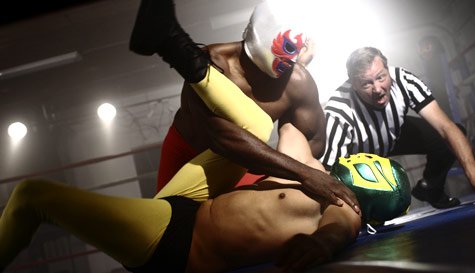 Think you could survive in the tough world of pro-wrestling? Want to toughen up the groom ahead of his big wedding showdown? Or are you simply looking for a way to get one over your mates? Whatever the case, our Blackpool stag party wrestling school is epic!

You'll be trained by current and ex pro-wrestlers who will really put you through your paces. You'll learn techniques such as grappling, choke holds, throws, reversals, hip-toss as well as ring craft and how to fall without hurting yourselves. You'll be learning in a full scale wrestling ring as the rest of the stags get to watch each other's progress, weaknesses and strengths which might prove vital later on as you take on the...

Battle Royale!

This is a last man standing, fight to the death (pub). You'll get to put everything you've learnt as well as your knowledge of your opponents weak points ("Brad - bad knees, Rob - old rugby injury, Steve - bit of a girl, Liam - doesn't like his hair being touched...") into one glorious grand match where all the stags will enter the ring where there can be only one winner*.

You'll need to bring your sportswear but for extra laughs, ask all the stags to bring their own wrestling costumes and wrestling names ready for some smack talk. This is a perfect excuse for the groom to finally dress in lycra and wet look hair gel (alternatively bring him a onesie and pink tutu so he'll look suitably terrifying).

Your training will be recorded for a short YouTube video (included in the cost) where you can issue your threats and smack talk to your fellow stags.

Upgrade...
Former WWE wrestlers available as trainers for an additional fee.
Full weekend courses available.

*Please note, all matches and battles will depend on fitness levels and the instructor's call regarding the group's safety.