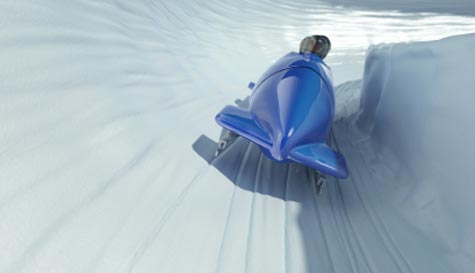 You've probably seen bobsleighing on the TV at the Winter Olympics or even on cult classic film Cool Runnings as a part of Jamaica's number 1 bobsleigh team - well now it's your turn! Have ago at this totally thrilling and highly unique activity which allows you and your stag group to try your hands at this iconic snow sport only previously attempted by the very bravest (or craziest) winter sportsmen.

And now thrill-seeking stags can try it for themselves!

IMPORTANT!
We would like to point out that bobsleigh really isn't for the fainthearted. This is full-on racing and a certain level of fitness is required. Bobsleighs travel at quite literally breakneck speeds, with competition speeds averaging 93 mph and the world record speed being clocked at 125mph.

Bobsleigh involves teams of two or four (the lads will be divided accordingly and take turns) making runs in a sled down narrow, twisting icy tracks. You'll be timed and the runs combined to calculate your final scores. Once everything is checked and verified the stag bobsleigh champions will be crowned.

We'd suggest ice-cool drinks for the winners and glasses of snow for the losers.

Stag weekends are a great opportunity to try something completely new and this really is a cut above most stag activities in terms of bucket list life experiences and something the lads will remember for years to come.