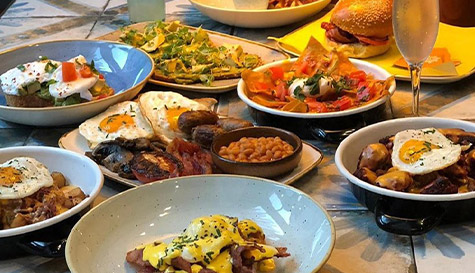 This is the main guy's last weekend as a bachelor, so you've got to make it epic! And what better way to do so than by heading to this fantastic restaurant in the city centre for a hangover-curing brunch.
Stag armies march on their stomachs, gents, so this Boozy Bottomless Brunch is certainty a revelation! You and the boys will take your pick from the mouth-watering menu and enjoy some tasty dishes that'll provide you with the fuel you need for your epic weekend. And, to top it off, you'll also enjoy 90 minutes of bottomless booze. Now we're talking!
All you need to do is pitch up at this central venue and take a seat at your reserved table before you kick back and relax in style. Everything is pre-paid so you won't even need to crack out the calculators at the end to figure out who owes what. Ideal!
On the menu:
Salt Beef Hash - Sautéed potatoes and pulled salt beef, covered in a nacho cheese sauce and topped with a free-range egg.
Bacon & Egg waffle - Poached eggs and crispy bacon on a waffle topped with hollandaise sauce.
Beet Hash - Sautéed potatoes with beetroot falafel pieces, nacho cheese sauce, mint & coriander hash, and a fried egg.
Fried Chicken & Bacon Waffle - A waffle stack topped with fried chicken strips, bacon and a fried egg with a drizzle of sweet maple syrup.
Sunrise Nachos - Tortilla chips smothered in cheese with crispy bacon bits, tomatoes, and poached egg with Sriracha sauce. This is nacho average breakfast!
Brunch Grill - Crispy bacon, sausages, fried eggs, charred plum tomato and fried mushrooms with baked beans and toast. This is the real deal.
Bacon Brioche - A brioche roll with crispy bacon and charred plum tomato filling
Avocado on Rye - Smashed avocado on dark rye toast sprinkled with chilli flakes & lemon cress.
Smashed Avocado Brunch - Poached eggs with smashed avocado on white loaf toast topped with coriander, chilli flakes, and sriracha sauce.
Nutella, Banana and Blueberry Pancakes - Pancakes in a stack layered with blueberry jam, Nutella and banana with fresh blueberries on top for stags with a sweet tooth!
Bottomless drinks menu:
Pint of Amstel
Bubblegum Daiquiri
Prosecco
Virgin Mary
Blank Canvas (Cocktail)
Bloody Mary
Soft Drinks