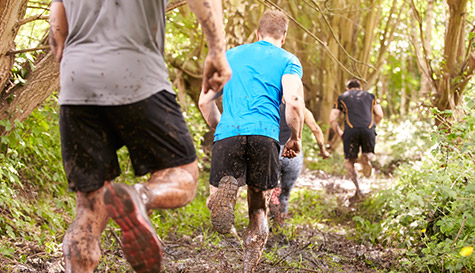 Did you ever sit through Total Wipeout and think "I could do better than this muppet!" Well, now is your chance to prove it with the Bournemouth stag party assault course. Gear yourselves up for a whole heap of chaos and carnage as you and the boys' race against each other to find out who are the true stag champs!
Your group will be divided into smaller teams on arrival and you'll be shown to the obstacles that need conquering. It's then a race against the clock and/or the opposition to see who can overcome them the fastest. So, get ready to crawl, climb, jump, balance, triple-backflip, run a hundred metres in less than ten seconds and wrestle a bear (OK, maybe not the last three), as you prepare to tackle this epic course. Be ready to work as a team if you want to defeat the opposition. May the best man (or any of the other stags) win!
You should wear some activity-appropriate clothing, i.e. sports gear and either trainers or walking boots. Fancy dress is allowed so long as it isn't so extravagant that it could get caught in moving parts or block your vision. You will need decent footwear so leave the flip-flops in your Nissan Micra. And why not tell the guys to dress in team costumes? Or you could pull an awesome stag prank and tell the groom everyone's dressing up and then leave him the only one looking like a numpty.
The course is out in the elements so be mindful it may be hot and dusty or wet and muddy. Overalls will be provided dependent on the weather conditions.
This stag-sized
Bournemouth stag do
assault course challenge is great for guys who love a bit of competition and want to get the blood pumping. It's also a pretty savage hangover cure, that will separate the stags from the boys, because there's no sentiment in sport and any stags that fall behind, should be discarded, those deadbeats are just slowing the rest of you down! So come on lads, have at it!