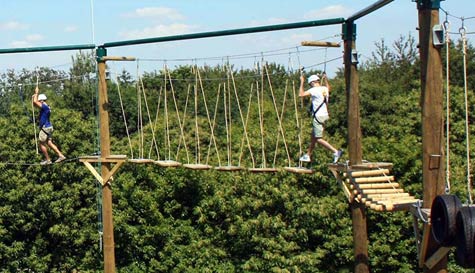 "Hangover? What hangover?!?" This epic stag-sized challenge will soon scare away any hangovers as you and the guys stare down some huge challenges.
Ok, so the heads might be a bit tender when you arrive but flying down a 70m zip wire at roughly "Waaaaaghhhhhh!" miles an hour, those no times to feel pain.
The course is split into 5 separate sections. You'll be given a quick safety briefing and be show how to use the harnesses and safety ropes before you're let loose and can take on the course art your own pace.
1 - Climbing Wall
11 metres, there are different routes to suit climbers of every ability, even the groom's slightly weird cousin. The wall is split into two sides so you could even set up some stag challenges to see who can make it to the top the fastest (but always follow the strict safety rules).
2 - Low Course
There are 9 individual elements to get over including a log bridge, crawl tunnel, and cargo net. This course reaches up to 5 metres.
3 - High Course
12 separate challenges, 10 metres high, you'll come face to face with islands in the sky, swinging tyres and a Burma bridge.
4 - PowerFan
This one will test your nerve and underwear. Stand on top of the 11.5 metre platform and then step off. The PowerFan will ease you to the ground like a parachute. But have you got the guts to take the step into fresh air?
5 - Zip Wire
It's 70 metres of high-speed awesomeness. One of the highlights of the course.