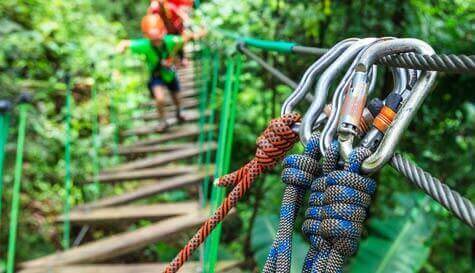 Our Bournemouth stag party high ropes activity will give the boys some adrenaline pumping, high-intensity thrills and also get the banter flowing as you either work as a team or opt to race to the finish.

This is one of the largest courses in the UK that features an array of tough-guy action including;
Crawl tunnels, Cargo nets, Log bridge, Swinging logs, Burma bridge, Gladiator rings, Islands in the sky, Swinging tyres, Climbing walls, Zip wire, Parachute descender, and more...

High Ropes - 10 metres above the ground, the main part of the course has some huge challenges to overcome as individuals or working as a team (you wouldn't leave the groom behind would you...?)

Parachute Descender 11.5 metres. Put your faith in gravity and some bloke's ability to tighten that last bolt. Step out on air then plummet to the ground at high speed before the fan kicks in and catches you just before landing. A huge adrenalin rush for those brave enough.

Climbing Wall - 11 metres. There are various routes to make it to the top but which stag will be fastest?

Zip Wire - 70 metres. This is a massively exhilarating, high speed, free fall that starts at the top of the forest canopy and heads straight towards the lake.

Experienced instructors will be on hand to get you started and make sure all the guys know how to hook on safely. Then once ready you're free to explore the course at your own pace. This'll be a real test of those 'balls of steel'.

This Bournemouth high ropes course is a great addition to any big weekend. It's awesome fun that is perfect for stags who fancy discovering a new activity that'll guarantee big thrills and even bigger laughs.