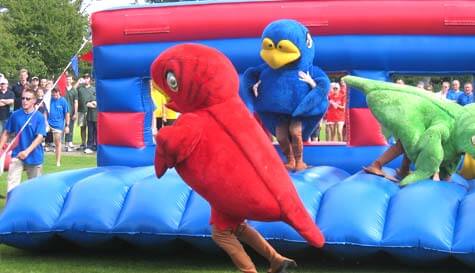 Get set for some "old skool" stag chaos. You'll be going head to head against other teams on a range of huge obstacles in a battle of power, speed, agility and hilarious sporting cock-ups.

Our Bournemouth stag do inflatable games is ideal for anyone who's watched classic shows such as Total Wipeout, Ninja Warrior or even the 90's classic Fun House and thought "I'd love to have a go at that." Well now's your chance.

The games, costumes and amounts of foam and water are all supersized with many of them coming from the daddy of all TV game shows "It's a Knockout." You'll find yourselves leaping over inflatables, diving into foam pools, racing on obstacle courses and (hopefully?) seeing the groom nosedive spectacularly into a bouncy wall as you casually jog past taking victory for your team.

Depending on your group numbers you'll either be split into separate teams or work together challenging other teams which will possibly include hen parties. The sporting rivalries are great fun and all over seen by the game umpires who will be on hand to reign in the madness and try and keep the teams heading in the right direction (which isn't always easy if that direction requires heading over a 10 foot inflatable wall that's covered in gunge.

Full on mayhem, undoubted cheating and non-stop laughs are part of the course in our Bournemouth stag party inflatable games which are perhaps the greatest way to work up a thirst ever invented. Expect the unexpected, but one thing you can be sure of... It's going to get messy.