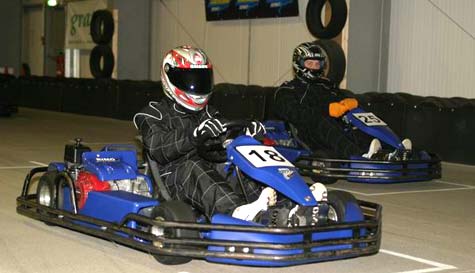 Fancy a nice relaxing afternoon on the beach? Not when there is an epic 700-metre go-kart track waiting for you to thrash your mates on! Our Bournemouth stag party go-karting is the perfect way to finally settle that age-old argument of which one of you is the best driver.

Our karting venue not only boasts one a superb indoor circuit with extra-wide lanes for plenty over-taking opportunities but is also home to some of the most frighteningly powerful, karts that will put both your driving skills and Calvin Kleins to the test.

The track itself is a whopping 700-metre indoor asphalt track, and while you'll be driving 200cc Zip Karts with Duro tyres and lightweight racing-chasses capable of hitting 50mph in the straights (please don't try hitting that on the bends or your mates will be scraping you off the tyre wall). There's also an onsite bar and restaurant with a range of hot and cold food options, you can also grab a pint after the race.

The integrated F1 Analysis System logs every kart's progress as you race and times drivers to within 1000th of a second. That will put an end to any arguments and allow you to rightfully declare who is your Bournemouth stag do champion and point fingers of derision at your group's Captain Slow.