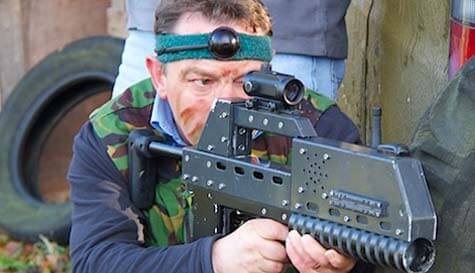 Our laser war games will see you and the lads live out all your war movie fantasies in a series of exhilarating combat challenges. This is full-blown, out in the open combat that is definitely a far cry from the action you'd find in your local laser tag.

You'll have to take on some genuinely tough terrain in our Bournemouth venue, so Welcome to the Jungle, stags. All that's left to discover is who's going to be the hunters, and who will be hunted?

This is called war for a reason, boys. You'll get your hands on high tech infra-red laser guns that demand pinpoint accuracy, so you'll need all your sharpshooting skills to take out the enemy. Or alternatively, just 'pray and spray', it certainly worked for Arnie!

In an awesome twist, if you do get hit during a match, you'll have to make your way to an electronic medic box to revive yourselves. And although you'll never run out of lives, stags that end up making repeated walks of shame are sure to be subject to some epic banter.

Bournemouth laser war games will provide everyone with big laughs and even bigger thrills as you take each other on in a real-life combat experience without the pain of being pelted with paintballs. Besides, it's not every day you get the chance to see the stag falling face first in the mud!