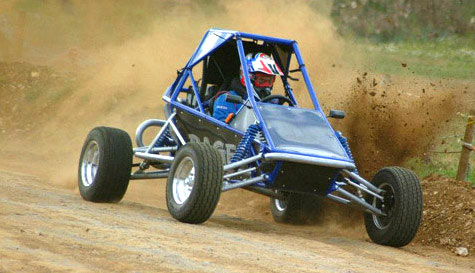 If you and the boys are after some off-road driving action on your Bournemouth stag do, but you don't want to sacrifice speed, we've got the perfect activity for you. Off-road karting could prove to be the most extreme all-terrain driving experience you've ever been on. This is serious driving action that's sure to challenge even the most seasoned off-roaders; we're almost convinced that this should feature 'balls of steel' as a requirement for entry.

However, if you're brave enough to take this on, you definitely won't regret it. Off-road karts will give you and the boy's big laughs and even bigger thrills as you tear up this multi-terrain course. Bournemouth is home to some awesome coastal landscapes, and you'll be able to run roughshod all over them with these monster karts.

The karts themselves are really impressive. Equipped with roll cages and some serious suspension, these big-wheeled beasts will literally destroy any natural obstacle you point it at, as long as that obstacle isn't called 'a tree'. You'll be able to get some big air out of these bad boys, and at speeds of 60mph, these are something that even a certain Mr Clarkson wouldn't turn his nose up at.

Off-road karting will inject a healthy dose of adrenaline into your big weekend. It's a great way to get your driving done before you hit the bar!