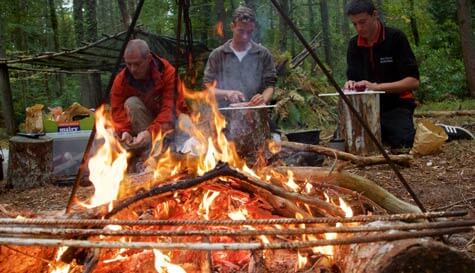 There is nothing quite so manly as camping in the great outdoors, it takes us back to our primal roots and pits us against the elements. But in this pampered age have your group of moisturising, social media-loving, smartphone-dependent stags got what it takes to survive out in the wild?
Under the guidance of our bushcraft expert, you and the guys will be shown the basic skills of how to survive should the seemingly impossible happen (zombie apocalypse, cataclysmic natural events caused by global warming, Tottenham actually winning the Premier League).
You'll learn a number of core skills:
Shelter building
Fire starting
Bush cooking
You'll then be sleeping outdoors
Breakfast and dinner will be provided although you'll be doing the cooking.
Onsite facilities include:
Toilets
Your own camping area
Picnic area
Outdoor food prep kitchen
You'll need to bring a sleeping bag as well as any drinks you want to enjoy around the campfire but your accommodation will already be waiting for you. You can also bring a few other basic comforts such as a torch, camping chair, teddy bear and pink onesie for the groom (aka 'Mummy's little soldier).
Dinner
Beef chilli with a jacket potato
or
Beef casserole
(vegetarian options available)
Breakfast
Bacon bap
or
Omelette - green peppers, onion & mushroom or ham & bacon
After breakfast you'll head back to civilisation where you can continue the party with even more epic activities.