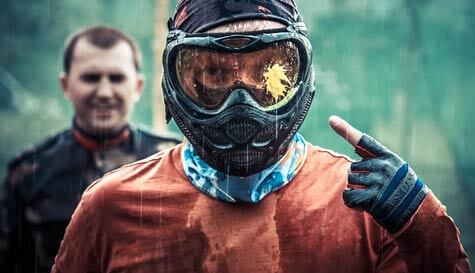 Our Bournemouth stag party paintball is so popular because it's epic. It's a special scenario where grown men can go sprinting around like kids, waving guns around and pretending they're kids, mates shooting mates in the ultimate contest of the stags. Who will emerge victorious? Probably nobody because you will all be too busy laughing at whoever takes a paintball to the gentleman vegetables.

The lads might think they've got what it takes when they're on the couch playing Call of Duty or Halo, but in the midst of our Bournemouth stag party paintball they'll soon discover it takes a lot more than snappy reactions to emerge victorious from battle.

With modern compressed air systems giving you sharpshooter accuracy, Bournemouth's modern facilities make hunting down the groom easier than ever. The Dorset terrain makes for the perfect paintballing battle zone and with the playing area strewn with genuine military vehicles you're sure to feel totally immersed in your stag party's war.

Expect plenty of friendly fire among your fellow stags as mates settle personal scores and everyone looks to give the groom an early wedding gift. Just ask the marshals there to help you arrange some stag pranks for the groom (if you're feeling stuck for ideas, check out our stag pranks guide).