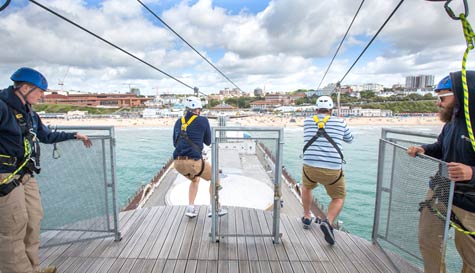 Is it a bird? No
Is it a plane? No
Is it a very hungover groom strapped in by his b****cks and flying to the beach at very high speed. Well yes, actually it is.
This really is a chance to give the weekend a superhero lift as you League Of Extraordinary Gentlemen take to the skies on an extreme high-speed adventure that will test both your bottle and your breakfast.
One of the most unique ziplines in Europe the wire runs from the end of the pier and across to the beach, over the head of tourists and directly in line with angry-looking seagulls. It's the perfect way to start the morning and help the guys get over their hangovers.
It's always reassuring to be asked to sign a legal waiver before any activity, it lets you know that it has just the right amount of danger that people are double-checking that you're crazy enough to do it. Having signed away on the dotted line you then need to get rigged up in the man-veg hugging harness and safety helmet. It's then up and at 'em as you climb to the top of the tower. Too late to back down now as the rest of the lads on the beach will now be watching you. Then one small step for man, one giant slide for stag-kind. This is a dual-line so you can race a mate.
The pier has a bar and grill so once all the lads have made it back to dry land you can head back onto the pier and grab a life-affirming breakfast.