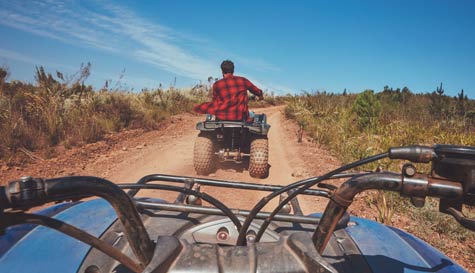 Its man and machine versus Mother Nature on our brilliant Bournemouth stag party quad biking experience. Are you tough enough to master one of the UK's most hardcore sites? If your answer to that question is a resounding 'yes', then think again. This 20 mile course has 14 unique tracks designed to challenge you to the max and push your driving abilities to their absolute limits.
However, once you've gotten to grips with your personal track-demolition machines, or as they're commonly known, 'Quad Bikes', you might find that this petrol-headed test is far less intimidating than it perhaps first seems. These bad boys treat even the harshest terrains with pretty much zero respect, and when you've got this much power between your legs (there's a joke in there somewhere) tearing up this course's specially designed tracks will actually be a real joy.
That being said, even the most macho men might have to take a deep breath before plunging into some of our Bournemouth stag party quad biking course's most extreme moments. These include frankly awesome 45-degree banking chicanes (the only ones of their kind in the country) and the infamous 30-metre 'ski-drop' which has provided some serious brown-trouser moments for even the most hardened riders.
Quad biking is mad, bad and dangerous to know for all the right reasons. This is a white knuckle ride that all the lads will love and any activity that could potentially end up with the nearly-wed parked in a tree has to be worth a look in?!?
Why not add...
You can have twice the laughs with a great deal when adding a second challenge to your Bournemouth stag do. Please ask our team for more details.
Or take it to the max with our Ultimate Stag Challenge. Read more...