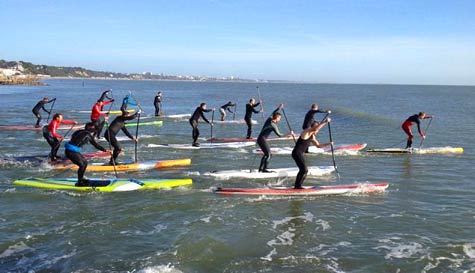 Welcome to the wet and wild world of stag party Stand Up Paddleboarding! For the uninitiated, Stand Up Paddleboarding (SUP) originates from Hawaii and is a traditional watersports activity with a modern twist that provides a great alternative to surfing. SUP involves standing on a large longboard as you propel yourself with a single-bladed paddle across the water. You'll need a degree of strength, good balance and the ability to laugh without falling over as you watch your mates face-plant repeatedly.

Your 2-hour session will include all equipment (such as a longboard and wetsuit each) and tuition as you learn the ropes. The experienced instructors will get even the clumsiest of stags standing up on their board (how soon they hit the water again is open to bets). Once you get the hang of it, SUP really is exhilarating great fun as you take in races and challenges against your fellow stags.

With sessions tailored to the needs and abilities of your group, this really is a sure-fire stag activity that will give the lads some competitive fun, plenty of laughs and a great workout. You'll certainly be ready for that first beer of the evening.

DID YOU KNOW?
In a 2013 report, Stand Up Paddleboarding was voted as the most popular outdoor activity among first-time participants.