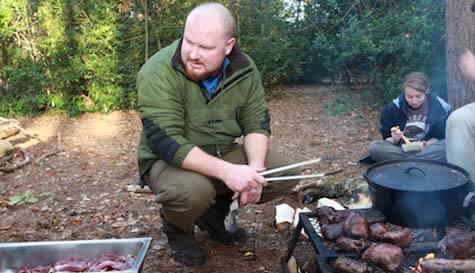 Ever wondered what bears really do in the woods? Well if you're Bear Grylls it's eating lice and oak leaves and drinking your own...(?) Surviving by your own means is the ultimate test of manliness and while we won't be expecting you to drink out of a sample cup or foraging for mealworms our Ultimate Bushcraft Survivors activity will send you and the lads out into the wilds to see if you really have got what it takes to make it through the night.

However, we aren't just going to drive you out into a forest and leave you there with just one match and a blunt pencil sharpener (and no, please don't do that to the groom). Our expert survival guides will teach you survival essentials such as knife and axe work, fire lighting, campfire cooking, small game and seafood prep and natural shelter building. You will also become the ultimate warrior in the most bad-ass way, learning tribal activities such as axe and spear throwing!

You can even mix it up by adding extra activities to your day with the options of coasteering, kayaking or climbing if you want to push yourselves that little bit harder.

The overnight stay comes with a bushcraft dinner and then a bacon sandwich breakfast (after all man cannot live on beetles alone). All you need to do is bring your sleeping bag (and maybe your Ray Mears Christmas Survival Annual). If you are looking for something totally out of the ordinary on your Bournemouth stag do that you and the lads will remember for years to come, then this is definitely the activity for you!

You can also have a choice of one of these classic stag activities:
Coasteering - A guaranteed stag hit and hugely popular! The group will be jumping, swimming and paddling to navigate across the Jurassic Coast.
Kayaking - You'll get out on the water in river kayaks as your guides teach you the basics before setting you tougher challenges.
Climbing - Learn abseiling and rock climbing skills with some real teamwork.