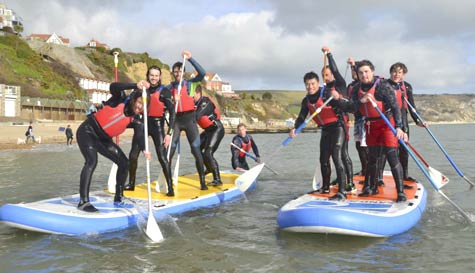 What's SUP dawg? Well actually homeboy, SUP stands for 'stand up paddleboarding' (yeah, we're street!). The sport originated on the beaches of Hawaii and involves riding a surfboard in a standing position using an extra-long paddle. One of the coolest watersports ever created and a hot celeb craze. Loads of famous faces have been papped paddleboarding:
Katy Perry
Matt Damon
Jennifer Aniston
Rihanna
Lady Gaga
Matthew McConaughey
Orlando Bloom
Kate Hudson
Jennifer Garner
But now it's time for the squad to get wet and wild on a Bournemouth stag do. You'll be greeted by a friendly instructor who'll show you where to get suited and booted in your figure-hugging wetsuits. Once all assembled and breathing in to hide their beer bellies, the guys can pose for a stag team photo. Your lesson with begin on the beach where you'll be shown the basic techniques of SUP. Once it looks like you've mastered the basics you'll hit the water (some of you literally).
You'll have time to get used to the boards then things will get competitive with races and games.
Finally, it's time to shame you all by getting out our whopper. A huge 17-foot paddleboard that up to 10 of you can ride at once. This takes real skill and teamwork to stop you all from spending all your time falling in. This definitely is not as easy as it looks but once you've mastered it you will be true kings of the waves. Go on, make us proud!