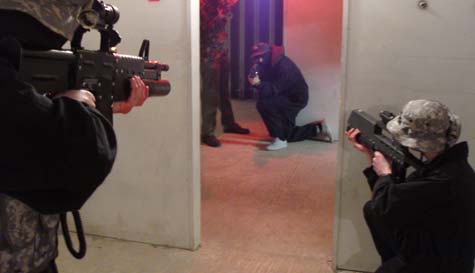 As mankind progresses, so does everything around him - in this case, warfare and stag parties. Nowadays, if you want to battle with your mates in a Call of Duty, man-on-man battlefield setting, and a few splats from a paintball gun just isn't going to cut it. You need to take things up a level, and our epic virtual warfare is just the place to do it.

Step away from the couch and put the gamepads down for a second to truly determine which stags could rule the battlefield in real life rather than in a game of Halo or Call of Duty. Silence the console warriors and gear up for virtual warfare.

It's a tactical game of team-based combat that, with a series of genuine military conflict scenarios, totally immerses you in the surroundings with airstrikes, booby traps and nukes, offering you and the boys a variety of games, roles and missions to give you an experience, unlike any other laser combat session.

Our Bournemouth stag do virtual warfare site is unparalleled, offering you a totally unique 11,000 sq ft indoor arena with facilities so realistic that the army will be jealous of what you get up to. The guns have a range of over 150m, as well as being faster and more accurate than their paintball cousins. Fire lasers at the opposition, create tactics with your teammates and take part in an all-out mission to become the victor!