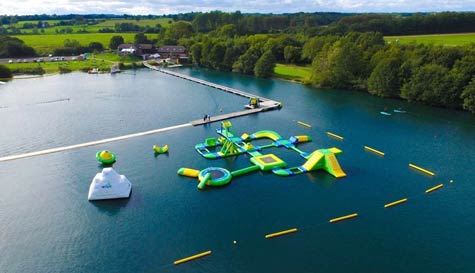 Any good Bournemouth stag do needs a healthy dose of complete and utter carnage and this is most definitely it!
Imagine if your stag party were to suddenly to find themselves standing on a larger and more chaotic version of the inflatables from the TV show Total Wipeout. Now imagine there is no Richard Hammond, less rules and all the competitors are allowed on the course at the same time... Now take away the polite competitors and replace them with your group of hugely competitive, boisterous stags... Oh yes. It really is that epic!
Marshals and lifeguards are on hand to make sure no one gets too carried away and everyone remains safe at all times but you can be pretty sure the groom will end up going headfirst into the drink at some point ('it's what he would have wanted').
The course is littered with obstacles which you can take on one after the other or simply dwell on one challenge while watching the stags attempt, fail, repeat. Obstacles include:
Balance beams
Hurdles
Rollers
Slides
Trampolines
Monkey bars
Flippers
Rockers
Inclined climbing wall
Giant iceberg
And more...
You can create your own stag challenges out on the course or make it a race to the pub.
All participants must wear live vests for added buoyancy, despite how much you argue, the extra beers and burgers you might have consumed last night don't actually make you more buoyant.
So come on in, the water's lovely!