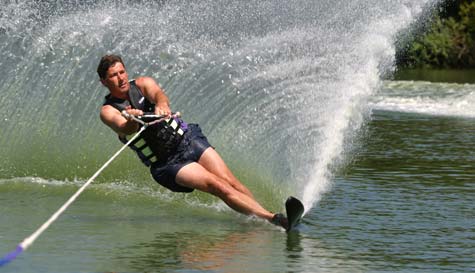 Bournemouth is full of truly wet and wild stag action for your big weekend. As a coastal town, it specialises in the kind of water-borne thrills that other inland locations just can't provide. While it's certainly possible to take your stag party waterskiing in London, Bristol or even Nottingham, Bournemouth just does water sports, well, better.

It's a fact you'll discover on your Bournemouth waterskiing session, as you'll take on a course that's specially designed to challenge you and the boys to the absolute max. Whether you've tried this before and you're looking to sharpen your skiing skills or you're a total novice and you just fancy seeing what all the fuss is about, this is a great way to kick off a weekend of coastal chaos.

If you don't mind getting wet and you're in the market for an adrenaline-fuelled, thrilling stag activity to get all the boys pumped for the big night ahead, then waterskiing could be perfect for you. This sport might look obscenely cool in the movies, but it's actually a lot harder than it looks.

Prepare to get dunked into the water more than once as you're towed across the lake at high speeds by a boat piloted by a (slightly mad) driver. It's worth remembering that this activity can only be booked as part of a multi-activity day along with two other activities:

Ringos - Take a hilarious ride across the water in your own inflatable ring; scream if you want to go faster!
Banana Boats - Get flung across the water with the lads in tow on a truly bonkers boat. No bonus points for guessing what it looks like though...

Everything's included in this fantastic package, so all you and the boys need to remember is your trunks. A Bournemouth stag do isn't always well-known for its blazing sunshine though, so Speedos are only for the very brave...