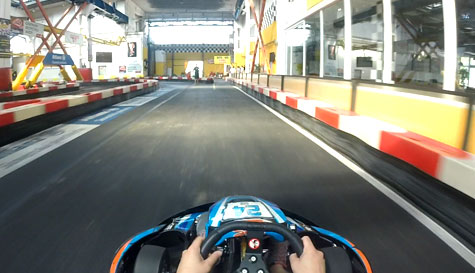 Go karting in all of its many forms is always a sure-fire stag party winner, and that's because it's totally awesome! Get fast and furious with the lads in high-speed wheel to wheel competition without the fear of wrecking your pride and joy, adding points on your license or breaking any laws.

Our Bratislava indoor go karting facility is a state of the art venue with fully computerised race tracking ensuring you'll get accurate readouts of your racing achievements and track times. You'll even get digital print outs of your track times, which means you'll have irrefutable proof of your stag racing supremacy, though you might want to be rid of it if you're the slowest lad of the lot.

Proving that they know stag parties better than anyone else, our Bratislava indoor go karting venue will set you up with complimentary beer for when you're done, so you can exchange banter while everything's still fresh in your mind.

Indoor go karting is a great way to get the adrenaline pumping through your veins. There are bucket loads of overtaking places on the track so you can put all of your racing tricks out of the bag before the wipeouts and crashes start happening.